| | | | |
| --- | --- | --- | --- |
| Karinj water supply problem solved | | | |
Kharinj community over the years has been facing the problem of a lack of drinking water, village has not been connected to any water supply system. Municipality has tried to solve this problem, but there always were not enough funds.
On 23rd of June, Centre for Community Mobilization and Support together with head of the community and active community members discussed final details of plumbing construction works. Till the end of August, 800 meters of pipe will be laid.
Project is provided with the financial support of CCCMS and World Vision Armenia.
Read more...
| | | | |
| --- | --- | --- | --- |
| Chochkan`s kindergarten will be supplied with drinkable water | | | |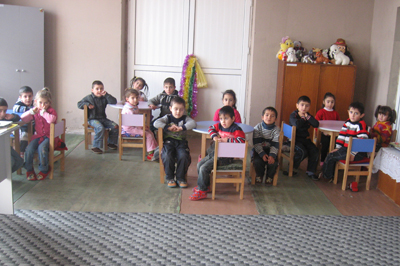 Kindergarten in Chochkan community still faces a problem of lack of potable water. Currently water is deliver by children`s parents and kept in containers.
CCMS provided construction materials for planned pipeline system.
This program is administered by our organization with financial support of World Vision organization.
Read more...
| | | | |
| --- | --- | --- | --- |
| Medical station in Small Ayrum | | | |
Two neighboring villages – Big Ayrym and Small Ayrum for years didn`t have access to medical care on spot. Residents had to travel to the nearest health center situated over a dozen kilometers away.
To solve this problem, in December 2013 Ayrum`s Local-Self Government together with CCMS held numbers of group discussions, during which they also raised a problem of renovation of the kindergarten in the village.
This year, in June the renovation works of medical station started. Appropriate materials are being delivered and reparation works are being launched.
Read more...